Vision Statement
We believe that all people are created in the image of God and are unconditionally loved by God.
We are dedicated to being a community which welcomes and includes everybody, celebrating the diversity of our age, gender, race, sexual orientation, gender identity, ability, ethnicity, and socio-economic circumstance.
We pray for God's spirit to guide us as we celebrate the richness that diversity brings to our church, even as it challenges us.
We are committed to seeking justice, loving kindness and walking humbly with our God on our common faith journey.
ALL are welcome!
Mission Statement
Yellowknife United Church is a community of Christians who enjoy fellowship grounded in a common, growing faith. The opportunity for worship and reflection offers the strength and spiritual development we need to live and minister in our society.
We value the Christian education of our children and adults. By exploring our Christian heritage we understand our faith more deeply. We seek to be enriched by the spiritual traditions of the northern peoples.
As a congregation of the United Church of Canada we accept a calling to share our gifts, to work for a just and peaceful community and to exercise faithful stewardship of the life and health of God's creation.
A Short History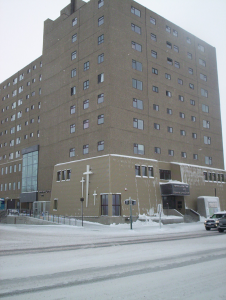 Yellowknife United Church began with the formation of a women's association in 1956. At first, Sunday services were held only during the summer months but worship became regular, usually held in one of the schools. Construction began and in November, 1958 the first church building was opened. The active congregation worshipped there until the early 1970's when, after considerable discussion, the decision was made to sell the original structure, have it removed from the site and build the multi-purpose complex which was opened in November, 1976.
It is known as Northern United Place and is overseen by a board of directors responsible to the membership of Yellowknife United Church and to the wider community of Yellowknife. Within the building are apartments for seniors and others, the Aurora College and residence, a chapel which is the worship place of Holy Family Lutheran Church, several meeting rooms and the auditorium which is used as the worship sanctuary for Yellowknife United Church. Our meeting rooms and auditorium are used for worship and Sunday School, and during the week by a variety of user groups such as Scouts/Cubs/Beavers, Girl Guides, Alcoholics Anonymous, Gambling Anonymous, and Narcotics Anonymous. The spaces are also rented to community organizations or groups for meetings, training events and special occasions.